These characters have crossed paths with the Jet Set Pets on their travels, but may or may not have had speaking roles. Because they are in the background, they often look similar to each other. So far, they appear to be more mature than the main girls.
New York Fashion Week Guests
Edit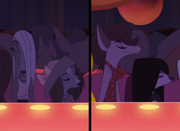 These characters had front row seats to the fashion show along with Pinkie Cooper. Their senses of style are a mix of edgy urban and retro feminine. From left to right, these ladies appear to be a greyhound, a cocker spaniel, a collie, and a dachshund.
Poodle Lady
Edit
She attended Karl Barkerfeld's party alone. Her fur is pale purple and white, sculpted to look like bracelets and ankle cuffs. Her dress and heels are coordinating shades of darker purple.
Chauffeur
Edit
He drove the limousine for the brunette lady. He appears to be a brown and cream English mastiff. His uniform is a black shirt and black hat, and brown dinner jacket, pants, and shoes.
Brunette Lady in Pink
Edit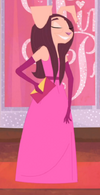 This guest attended Karl Barkerfeld's party and was interviewed for Pinkie Post. Her pink and purple gown was designed by Oscar de la Vizsla and her purple and white heels were designed by Jimmy Chow Chow. She wears matching purple gloves and carries an envelope clutch.
Party Guests
Edit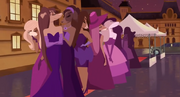 These guests attended Karl Barkerfeld's party and waited on the red carpet to be interviewed for Pinkie Post.
Fashion Assistant
Edit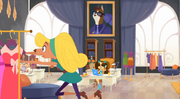 The fashion assistant appears to be one of Karl Barkerfeld's employees and is seen rolling a rack of gowns in his studio. She has beige coloring and long blonde hair. She wears a belted teal tunic with matching headband, blue leggings, and brown ankle boots.
Lady in Mauve
Edit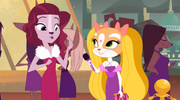 This guest attended the Yappies and was interviewed by Pinkie for Pinkie Post. Her hair is dark mauve, long and sideswept. Her gown is floor-length and has white fur trim at the collar. She complimented the wrap Ginger made for Pinkie.