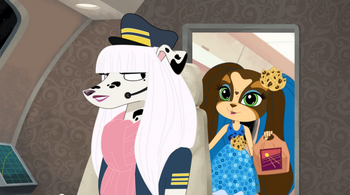 The pilot appears in Fortunately Unfortunate and flies Karl Barkerfeld's private jet. She is professional and friendly, and seems to be familiar with the Jet Set Pets.
Appearance
Edit
The pilot is a typical white and black spotted Dalmatian, but she has long white hair with blunt cut bangs. Her flight uniform is blue with gold bars. She also wears a knotted pink scarf.
Ad blocker interference detected!
Wikia is a free-to-use site that makes money from advertising. We have a modified experience for viewers using ad blockers

Wikia is not accessible if you've made further modifications. Remove the custom ad blocker rule(s) and the page will load as expected.