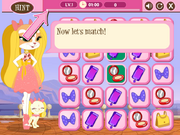 The Fun & Games section of the Pinkie Cooper website currently has only one game, but more are scheduled to be added in the future.
Pinkie Cooper Match 3
Edit
This flash game is a puzzle game similar to Bejeweled. Players must move icons around to get at least 3 icons in a row to make a combo. For every combo made, a bar at the top is slowly filled. Players must fill the bar before the time runs out to advance. The game starts at level 1 and gets progressively more difficult through 12 levels. The game also saves how well you do on each level by giving you a score from 1 to 3 hearts. The higher you score, the more hearts you earn.