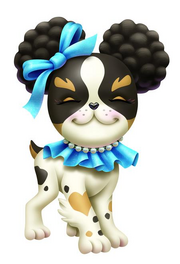 Saltine
is
Pepper's
little poochy pal and friend of
Sprinkles
and
Lil Pinkie
. She's a sassy girl but she's also warm and friendly.
Originally a rescue pup Pepper found in a rescue shelter, this sassy pooch is a real show stopper!
Personality
Edit
Saltine is Pepper's sidekick and always has her owners back in the best and worst of times. She's a sassy girl who says things like they are, even if it only comes out in barks.
While she usually-always looks in top form, don't let that fool you. She'll be ready to jump and play in a mud puddle any time or place. She also has a big mischevious streak.
Appearance
Edit
Saltine has a theme matching Pepper's. She is a mostly white dog with the upper-outside part of it being black. Her lower head, eyebrow markings, and eyelids/eyeshadow are bright hazel-brown in color. Her tail is half black and hazel-brown. All over her body she has black and hazel-brown spots, including a big heart shaped one on her upper right arm. Noticeably on the back of her arms are tufts of loose fur/hair.
Her ears/hair is worn in big afro puff pigtails with a blue bow on the right side of her head. Around her neck is a pearl necklace attached to a shimmering blue frilly piece.
Dress-up Saltine
Edit
(please note that this is a temporary name)
Saltine comes with ears coated in blue glitter, along with a dark blye neck piece with black leopard print pattern. Attached to this is a very thin material gold lace with white hem and shiny blue circled pieces attached. She comes with a gold bracelet, leash, and crown., and finally a dog food bowl with tray.
Saltine's name comes from a food "Saltine Crackers". It also is the opposite of pepper.
Gallerysite
Edit